!!!  During the current CoVid situation all workouts will be offered online   !!!
The workouts, even though they'll be online, will be challenging and will offer the right balance. You will benefit, mentally, physically, and emotionally. So, give us a try and commit to staying healthy and active.
If you are looking for something more intense, join us Wednesdays at 5:30 pm or Sundays at 11:00 am
If you are looking for strength and stretch, join us Thursdays, Saturdays or Sundays at 9:30 am.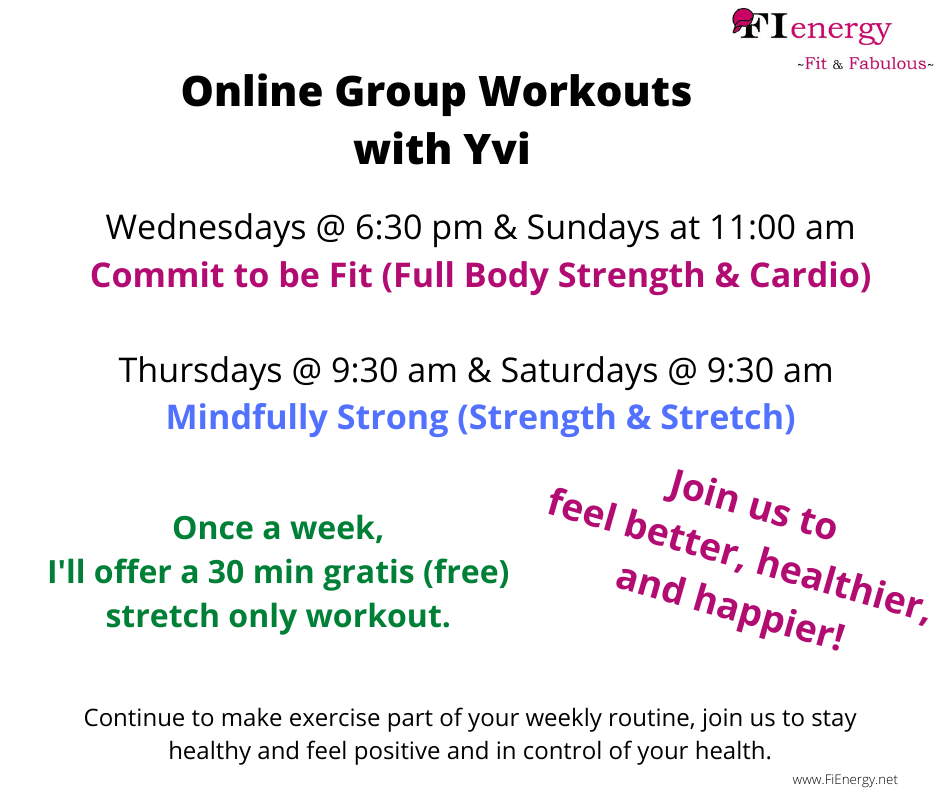 ~~~~~~~~~~~~~~~~~~~~~~~~~~~~~~~~~~~~~~~~~~~~~~~~~~~~~~~~~~~~~~~~~~~~~~~~~~~~~~~~~~~~~~~~~~~~~~~~~~~~~~~~~~~~~~~~~~~~~~~~~~~~~~~~
Outdoor Full Body Group Workouts in Vienna -  Healthy & Fit with Yvi
All workouts can be adjusted to every fitness level and each group workout is capped to 8 people so everyone can get the individual attention they need. Group workouts are open to everyone; everyone is welcome.
Monthly Fitness Camps in Vienna, Austria
Do you want to commit to one month, work out twice a week and become part of a small group? Then the camps are perfect for you. Plus, they are a great way to get started with a fitness routine and learn the exercises. Camps are tailored to your needs, weaknesses, and imbalances. Every monthly camps has a different theme always focusing on your needs and progress. (More info on Yvi's monthly outdoor fitness camps.)
-
Working out changes us physically, mentally, emotionally -
we work out for reasons beyond what we see in the mirror.
Register by contacting me
or by phone +43 677 - 625 - 45756
.
Alternatively, join my Facebook group: www.Facebook.com/groups/FiEnergy or page www.Facebook.com/FiEnergy.net
Monthly Fitness Camps
In February
Tuesdays & Thursdays
6:30 pm
Tuesdays focus on basic strength training to help develop overall full body strength and correct imbalances.
Thursdays focus on strength and high-interval exercises to build endurance and better fitness.
Location
Stadtpark
Open Group Workouts
Winter Schedule
Saturdays: 9:00 am or 10:30 am 
Sundays: 11:00 am
Saturdays, 10:30 & Sunday: a combi of strength & conditioning - Fun bootcamp
Saturdays, 9:00: a gentle workout: 30 min strength &  30 min stretch
Location
Augarten
Based on workout, we incorporate aerobic & anaerobic exercises and use body weight, TRX or resistance bands, among other things, to get stronger & fitter, and shape our body, but more importantly to support our health. Each workout is different; each class is different, and yes we have fun, we enjoy moving and connecting to our body and seeing progress! (All classes are 60 min long.)

Camp & Open Group Workouts in Vienna, Austria
Yvi's Outdoor Group/Camp Workout
In February
Tuesdays & Thursdays 6:30 pm – 7:30 pm
Yvi's Outdoor Group Workouts
Winter Schedule
Saturdays 9:00 - 10:00 am (gentle*) & 10:30 am - 11:30 am (fitness)
Sundays 11:00 am - 12:00 pm (fitness)
(*Gentle = approx. 30 min strength & 30 min stretch)
Price list for open group workouts:
1 single workout: € 15.00
5-er block: 5 group workouts for € 75.00
10-er block: 10 group workouts for € 140.00
15-er block: 15 group workouts for € 195.00
First time "trial" workout: € 8.00
Students (only with valid student ID): € 11.00 per workout
NEW: gift vouchers - give the gift/present of health
(As standard during public events and listed in the Data Security Statement, I may occasionally take photos and videos during workouts to be shared on social media sites. These are often however used for me to analyse imbalances and weaknesses to adjust workouts accordingly for regularly attending clients.)