We turn eating healthy into such an impossible task. But actually, eating healthy is less difficult than you think, even at the office.
Eating Healthy Made Easy –
Quick & Easy Snack Ideas For the Office
There are a few, simple food items which are affordable, available at nearly every store, and packed with nutrients to keep us healthy and strong. Best of all, you can take them to the office and create a quick, energizing, and nourishing snack.
What are these nutritional powerhouses which you should make part of your daily eating routine
or which you should keep as go to snacks when hungry at the office?
Here is a list of my favorites:
Good Fats Keep Hunger Pangs in Check
My go-to snack:  AVOCADO
They are loaded in healthy fats and fiber and vitamin C & K (as well as many other) and folate.
You can find them nearly everywhere and while you can't eat them on the go (have you tried biting in them?) you can turn them into your office snack.
Ways to consume avocado as snack?
avocado sprinkled with a bit of sea salt
1/2 avocado with 1/2 cup of cottage cheese & a bit of pepper
1/2 avocado spread on rice cakes topped with tomato & pepper LOVE!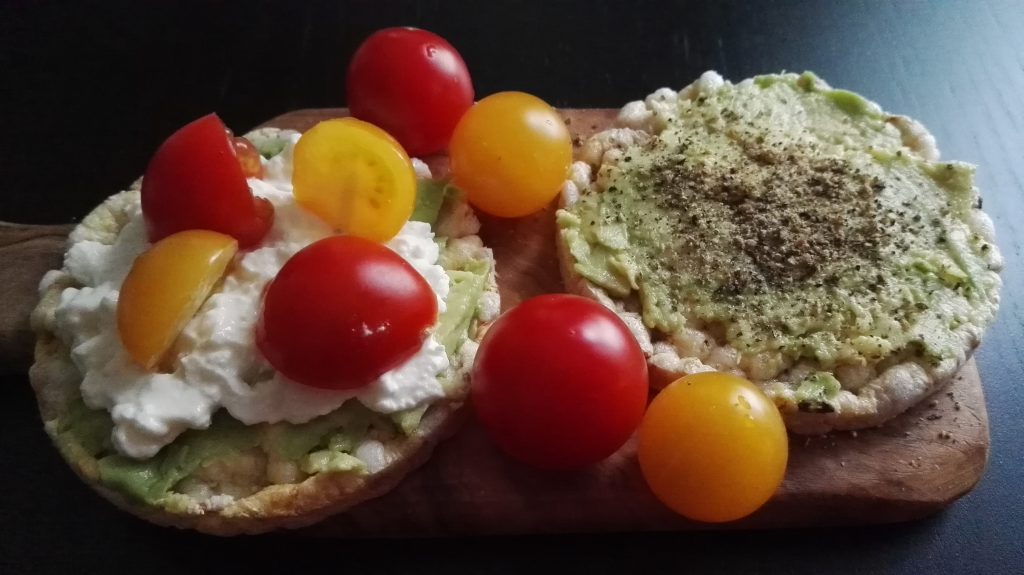 Alternatively, make this awesome spring inspired 3 layer dish with avocado, cheese, and mango. You can even make it ahead and take to the office (or just make a bigger portion so you'll have a healthy, tasty snack next time you'll get hungry).
Protein-Source, Filling, and Satiating:
Feeling the need to up your protein intake? My favorite snack: EGGS
Eggs are not only a good source of protein but a hard boiled egg as snack is a sure  way to keep me full til the next meal comes around, especially if I combine it with a few cut up veggies and perhaps a tad bit of hummus.
Keep in mind, eggs are also rich in choline which is good for hair and a healthy metabolism as well as vitamins D, B2, and B12.
So, make a batch of hard boiled eggs and store them in your fridge. This way you'll always have something delicious and healthy to snack on….and of course can take to the office. No excuses.
Ways to consume eggs as snack?
by itself
on top of a slice of bread (or rice cake) spread with a thin layer of hummus or avocado LOVE!
along a banana
Topfen (quark) with coconut milk: another favorite of mine, although more and more I seem to go away from dairy.
Nonetheless, if you like dairy, like the protein and calcium it offers give this a try. Add a bit of dried fruit, such as cut up dates or cranberries and you have yourself a satiating, protein rich snack.
Salads: Sweet, Sour, Tangy, Spicy….. My Veggie Intake Is Off The Charts
Do you want to know why I love SALADS?
Because more often than not you can make a big batch one night and have something refreshing to eat for the next couple of days. Best part, they develop their flavor with time, hence, they taste best the next or third day (contingent on salad of course).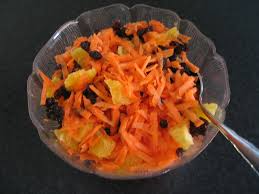 In the winter season I love a carrot salad mixed with lemon juice, raisins, walnuts, and a bit of feta cheese. Simple but soo satiating.
Other times I crave fermented food like kimchi or cabbage salad, perhaps because I know our body consists of tons of bacteria which influence everything from our health, weight, mood, ….
And of course, you can always take some salad to the office plus a salad it a better snack while watch TV than chocolates or chips. And a salad can be crunchy!
Do you need some salad ideas?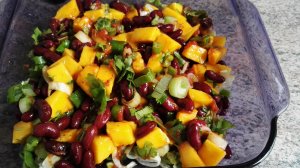 How about a crunchy broccoli, pear & feta salad (video)? This one is best on day 2 or 3.
Or how about a crunchy salmon salad (video)?
And of course, given that it's winter and with cabbage being in season we can't forgo this powerful winter salad.
And in case of spring or summer I LOVE this black bean mango salad.
Nut Butter – But Portion Control Can Be a Challenge
I love NUT BUTTER, cashew more than peanut. Nut butter makes for an easy snack, is great on bread, rice cake, or fruit, and is loaded in vitamins, phytochemicals, healthy fats, protein, and fiber.
Best of all, a tablespoon of nut butter (for me especially cashew) keeps cravings away.
Ways to consume nut butter as snack?
a tablespoon by itself
spread cashew butter on a banana – Delicious! A sure way to satisfy your cravings.
together with pretzels (just dip a pretzel into the nut butter)
with carrots (alternatively, you can also use tahini)
with 2-3 dried figs or dates (although portion control can be a big challenge!)
Fiber, Protein, Carbs – Stable Energy
Something you'll always find in my drawer: Chickpeas
Not only to make hummus, and if you know me you know I love hummus (easy ways to make hummus you'll see here).
Chickpeas are a great source of fiber and high in vitamins and minerals, such as iron, phosphate, calcium, magnesium, zinc, and vitamin K which helps with strong bones. More, it's a great source of potassium, many of us lack in our diet.
Ways to eat chickpeas as snack:
oven-roasted with spices; you'll make this one at home and  take to the office:
roast a can of (drained & dried) chickpeas in the oven and add spices……let cool, wrap and take to the office. Snack on them at the office
if you like a bit of sweetness, try adding a couple of raisins or cranberries to your heated  chickpeas
alternatively, if cooking on the stove, add a bit of coconut milk during the heating process
dried (pick them up at the Turkish markets)
Feel free to add a bit of healthy fats, such as avocado or add an hard boiled egg to them at the office.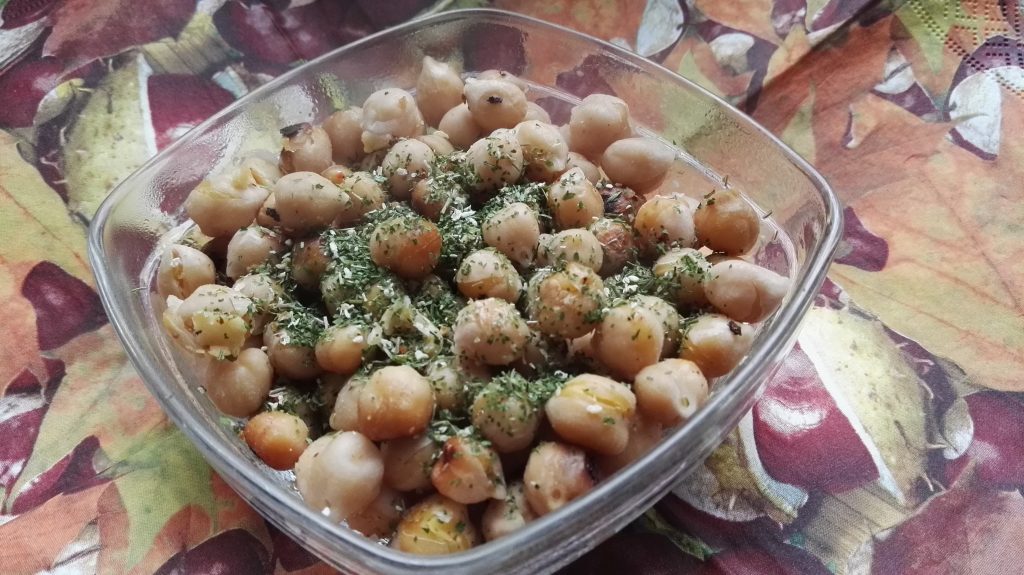 –
There you have it. A few of my favorite, HEALTHY (!), energy-providing snacks that keep me balanced, happy, and satisfied.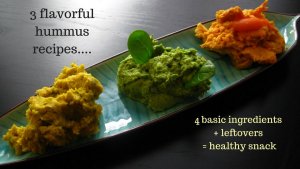 Don't forget, chick peas make easy hummus and hummus is GREAT with veggies or bread. If you need a few ideas on making hummus, why not check out this video: 3 vibrant & tasty hummus recipes & 8 reasons why buying hummus is silly.
Fazit:
You see, except for the salads & chickpeas, which you need to plan for ahead of time, all other snacks are easy to make within seconds. On the subject of chickpeas, even if you have a can at work you can drain it and add a few spices, nuts, or dried fruit and snack on them.
Best of all, none of these snacks will give you a sugar rush. They will support your health goals and leave you feeling nourished and satisfied and are a great source of energy if you are working out after work.
Have a plan:
Get into the habit of bringing a few items to the office on Mondays, such as
Cottage Cheese
Avocado
Veggies (a couple of carrots, a handful of cherry tomatoes,..)
Fruit (banana, apple or pear or citrus fruit)
Rice cakes (pref. whole grain or give spelt cakes a try. Much better than bread which just gets stale)
a couple of hard boiled eggs
and keep
a jar of peanut butter and a bag of nuts
as well as a can of chickpeas or a bag of dry-roasted peas in your drawer
By having healthy go to snacks at the office you not only support your healthy food choices throughout the day but also reduce undesired emergency trips to the vending machine or cantina.
Eating healthy is about planning and executing your plan!
Good food fuels a strong body & mind
Looking for more snack ideas for the office? Check out this post:
Please follow and like us: