Salad don't need to be boring &
salads are more than just a few leaves.
Who said, eating salads or vegetables has to be boring? Go on discovery, be adventurous.
Try these quick, simple but oh so flavorful recipes.....and discover, that healthy eating can be easy and flavorful, nourishing and satiating!
And who knows what flavors you'll fall in love with.
By the way, you can find more healthy recipe ideas on my You-Tube Channel.
- a summer salad for pear lovers (and the spicy-sweet combination might just wow you)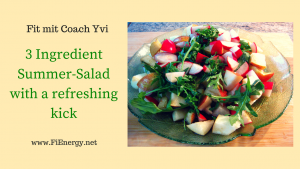 - add some fresh spinach and you'll get a nutritional power punch