Based on the Big Five personality traits, Keller & Siegrist examined different eating style and food choices, and concluded that our personality, indeed, may influence our eating style. Do you want to know why you eat what you eat, why your friend has an easier time to resist temptation or why your friend is constantly drawn to bar food? Then read on…..
Our friends and family:
Our dinner table is always a melting pot of personalities. I'm quite certain that some of your friends or family members are more outgoing or more open to new adventures and experiences than others.
I know in my family I seem to be the only one always trying new flavors, spices and food combinations. Getting them to eat a snail or peanut butter with pickled cucumbers or God for bid something as simple as watermelon with feta cheese is like getting a 3 year old to eat a bowl of fresh spinach.
If you have eaten out together, decided on a recipe to cook or gone food shopping you might have observed different eating style and food preferences, too. Perhaps, until now, you just checked it off under "that's just Katie" or "Jason doesn't like veggies". You perhaps might not have made the connection between personality trait and eating style (or food preferences).
Check for yourself; take a closer look at your friends and family members. Perhaps you'll agree with the researchers' findings.
Personality trait & eating style
In sum, the analysis of the effects of the 5 broad dimensions (short for OCEAN, the first letter of each dimension) on eating style used by the researchers (Keller & Siegrist) led to the following conclusion:
Openness to new experiences =>
higher fruit, veggie and salad intake
lower meat & soft drink consumption
Conscientiousness =>
higher fruit consumption (promoted by restrained eating)
no consumption of meat, sweet & savory foods, and of sugar-sweetened drinks (by reducing external eating)
Extraversion =>
promoted sweet & savory meals and soft drink consumption (by promoting external eating)
Agreeableness =>
Neuroticism =>
promoted consumption of sweet & savory foods (by promoting emotional & external eating)
Where do you fit in?
Do you find yourself? Do you agree? I think my friends should read this.
Just yesterday, one of my friends commented how "strict" I am about eating healthily. I appreciated the reminder and observation, although I don't see myself that way. Do they view me as "highly conscientious" while I view myself as "open to new experiences"?
Well, I'm perhaps a bit of both. Anyone and everyone who's ever met me will agree: "yep, Yvi definitely eats more of what she should. Not even the most scrumptious, delicious, rich piece of chocolate cake can tempt her".
(Sometimes, I think they think I'm weird for not being addicted to chocolate or Nutella. Now, if you were to give me a crunchy, spicy, "weird" trail mix you'd see a different side of me :)). I like and care about my health but also like adventure – a healthy, tasty food adventure.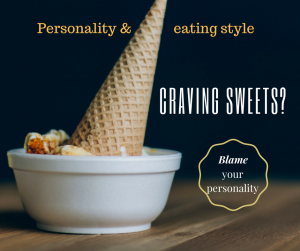 But, part of it is true. I blame my personality as research confirms that highly conscientious people adopt regulatory dietary restrain by eating more of the foods they should and less of the foods they should not consume.
Ladies and gentlemen, now you know why I snack on veggies and don't binge on or get tempted by fried food, sweets or soda.
Are you or your friend very outgoing and sociable?
Then you might not be surprised that the more of an extrovert one is, the lower the health-supporting food choices. (That hits the nail on the head for plenty of my friends).
Makes sense if you think about it. Social life often happens at night at a bar, sports bar or stadium surrounded by junk food, soda and alcohol. Healthy food choices here are most certainly NOT at the top of the menu and perhaps not even priority.
Overall, extroverts and neurotics tend to eat more unhealthy food (high sugar, high fat), potentially contributing to extra weight but they do it for different reasons. Extroverts, as mentioned, do so as part of socializing. Neurotics do so in order to deal with emotions whereby overeating is a real risk.
Why is this useful?
It can help us understand our eating style as well as that of our friends and family members.
If you are struggling with health or weight or with making healthy food choice, understand the influence of personality trait on eating style (this too applies to children). And use it as tool to make better choices.
By the same token, it empowers us to understand behavior of others we might care about.
For example, your partner or family members suffers from high blood pressure. While s/he loves going out with friends, they know they should reduce their sodium intake. What they should do but actually end up doing is world's apart. What can we do to help them? Well, for one, create their awareness of the connection and then help them establish a ritual or pattern that supports their health in line with their personality trait.
Health behavior change and relationships – can we support our partner, might offer a few new insights.
A social, outgoing person could for example plan meals ahead. If you know you'll be hitting the bar after work with friends, have a small "healthy" (perhaps low-sodium) dinner at work before leaving for the bar. You'll be less inclined to order a serving of chicken wrings or fries if you've eating a balanced, protein rich and satiable dinner earlier.
You are an emotional eater? Meet your friends instead. Go for a walk or chew on some gum before you mindlessly scarf down hundreds of calories. Your friend is an emotional eater; make sure s/he knows you are there for him or her. Reiterate that the person should reach out before they binge; this way, you perhaps can binge together (on your favorite soap opera that is!).
Most of all though, find a balance of what matters to you, and enjoy it. After all, health is a lifestyle…..but do make it (health) part of yours.
Recommended for you:
Video: Prepping breakfast and snacks for the work week ahead in under 5 minutes
Article: Healthy eating- easy tips that support weight loss
Health behavior change and relationships – can we support our partner?
Health Adviser: who influences health choices & eating habits