From My FitKitchen To Yours
Another late night at the office? Grocery stores already closed?
On your way home desperately trying to figure out what to eat?
Trying to recall what's in the cupboards or fridge?
Although you don't really have any energy left you know you don't want Chinese or pizza yet again…
If you are honest, all you crave is a simple, home-cooked meal…
Don't despair, these tips come to the rescue so next time you will get that home-cooked, simple meal you crave.
Stash your cupboards with these 
items for an easy, nourishing dinner
Easy, healthy, home-cooked dinner in a few
minutes – yes, it's possible:
If you have these stable food items in your home you can, in no time, create a healthy, satiating, and nourishing meal, for yourself and your family.
Plus, by having these items you can also create breakfast or lunch and pack a healthy snack for the office.
Thus, stack your food pantry with these items so you can make a variety of recipes to fuel your health and mind.
Stable Food Items (pantry):
Grains, such as oats, barley, bulgur, quinoa and whole grain pasta
Rice and Rice Cakes
Flour, such as whole grain, rice, or millet
Nut butter, such as cashew, almond, peanut (esp for breakfast or snacks although I could eat cashew butter spread on celery or apples while cooking anytime) and tahini (sesame paste)
Unsalted nuts and seeds, such as walnuts, almonds, chia-, sesame- or flaxseeds
Dried fruit, such as dates, figs, raisins, apricots
Canned beans and peas, such as black, pinto or garbanzo beans
Dry lentils, such as red lentil
Canned fish, such a salmon or tuna
Coconut milk
Low-salt pasta sauce or canned tomatoes
Baby food (yes, you read right: it's a great substitute if you are trying to bake something and have no oil or sugar: Go for 1 -2 jars of the fruity kind. Also great on top of pancakes or warm oats)
*fruits and veggies, those that store longer at room temperature, such as apples, pears, citrus fruit, banana, potatoes, pumpkin, cabbage, tomatoes, bell peppers, zucchini, arugula, ginger,  (choose a few to NOT risk spoilage)
Essential spices & all:
salt & pepper
chili and other spices, such as turmeric, ginger, cinnamon, cumin…
herbs, such as basil, chives, rosemary, …..
oil (olive, coconut, pumpkin seed,..) & vinegar
lemon & lime juice
garlic & onions
low-salt vegetable broth
(soy sauce)
sugar & baking powder & baking soda
Fridge Food Items:
Milk products, such as cow, goat or sheep milk or plant alternatives such as soy, oat or almond milk
Yogurt, greek yogurt, topfen or cottage cheese (obviously don't have all of them but choose which ones you'll consume)
don't neglect fermented food, such as kefir or tempeh
Eggs
Cheese, especially feta or mozzarella
Lean meats/poultry or fish (if you make them right away, otherwise freeze them!)
Hummus, although I think it's better to make your own (it's easy; just how easy plus 3 recipes I'll share with you here)
Frozen Food Items:
Vegetables (if always busy and chopping veggies is a hindering factor then buy from frozen, think mixed veggies with peas, broccoli, carrots, bell peppers but also frozen spinach or brussels sprouts)
Berries
Herbs (if you don't like the dried kind)
Fish
Healthy Meals At the End of A Long Day
Are Possible –
You Just Need To Decide You Want It and Stash Your Cupboards & Fridge Accordingly
I'm Starving:
Before I share with you some recipes, let's quickly address your hunger. Obviously, you shouldn't snack on cookies or chocolate while prepping your meal. Neither should your partner. Stuffing yourself with leftover bread topped with nutella or cheese might not be such a good idea either.
Instead, first drink a warm glass of water or tea, this helps to mainly slow down.
Then, if you are hungry, either drink a cup of veggie broth or vegetable soup or snack on some cut up veggies, eat one hard boiled egg or drink a small glass of kefir (or buttermilk).
Let's Cook
(given this post is for dinner, I'll neglect breakfast, snack or lunch recipes BUT be aware that your pantry is stashed for ALL meals!)
All recipes are made in under 30 minutes.
Anytime Omelet 
(I don't know about you but I can have omelet any time of day or night)
Ingredients:
3 egg whites
1 egg
2 tbsp milk
feta cheese
veggies of choice, such as tomatoes, onion, spinach, arugula, bell pepper, garlic or mushrooms or black olives
herbs of choice
Preparation:
saute' the vegetables in a bit of oil
beat eggs & egg whites together
in a frying pan, heat a bit of oil
pour eggs into pan; let settle. when cooked
add veggies and cheese onto 1/2 of the omelet, fold over
turn off heat and let sit a few seconds
Enjoy alongside some bread!
Creamy Pumpkin Soup
Especially on a cold winter night, craving for soup is especially strong.
And this soup seems everyone's favorite. If you want to add a bit of protein give silken tofu a try (or grill a few shrimp – frozen ones defrost quickly under running water- and toss them in just before serving)
Ingredients:
1 tbsp olive oil or coconut oil
1 stalk of leeks
hot water and a bit of veggie broth
pumpkin (1/2 of a medium sized one; sliced, seeds removed)
2 cloves of garlic
1 inch of ginger
(silken tofu and/or coconut milk)
Preparation:
In a big pot, add oil and sautè leeks
add pumpkin, ginger, and garlic
add broth/water and bring to a boil
reduce heat and let sit until pumpkin is soft
turn heat off
puree everything with a hand-held puree stick
add silken tofu or coconut milk and puree again for a few seconds
leave soup a few minutes on stove
sprinkle with a bit of pumpkin seed oil and ENJOY! Great alongside a slice of bread or home-made cornbread (leftover from the weekend?)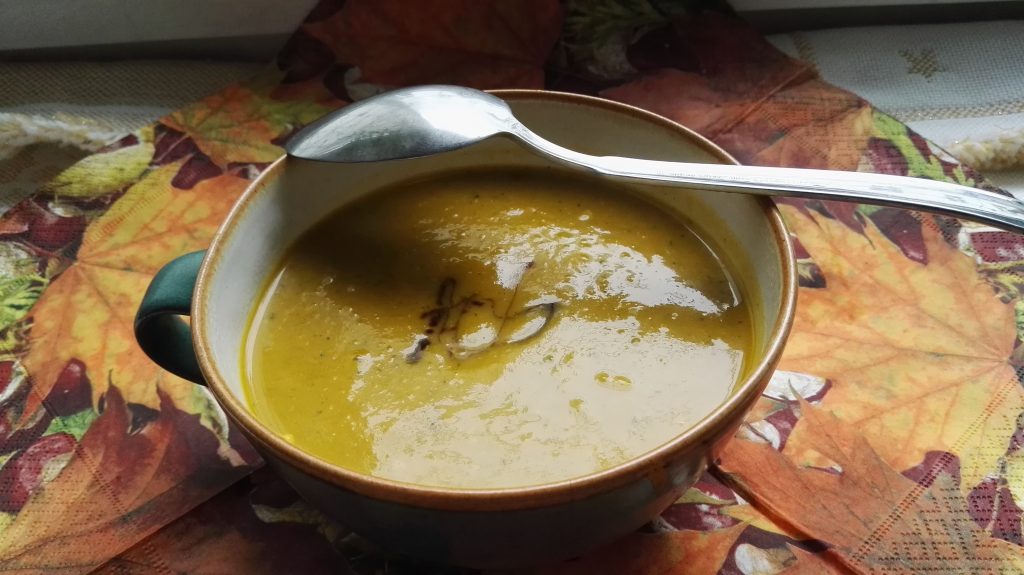 Quick and Easy Greek-Influenced Couscous Salad
This is great, not only because it's easy but also versatile. You can basically mix anything into it, even canned tuna, edamame or eggs to increase protein content.
Ingredients:
1 cup dry couscous
~ 1 cup water or chicken broth
1/2 cup of orange juice (if you have otherwise just leave it out and use more water)
veggies, such as green onions, cherry tomatoes, zucchini, cucumber or black olives (all chopped into small pieces)
feta cheese
olive oil and a bit of lime juice
(alternatively, if you have you can also add nuts & raisins, or arugula and spinach, or eggs & mushrooms,……)
Preparation:
bring water & orange juice to a boil
add couscous, cover, turn off heat and let sit
in the meantime, combine olive oil & lime juice
and cut the veggies
then, open the lid from pot with couscous and fluff grains with fork
add chopped vegetables and drizzle lime-olive oil mix into it
add cheese and mix everything slightly
Enjoy!
Vegetarian Chili
(feel free to add minced meat if you like)
Beans make for a satiating, filling, and nourishing meal and are a great way to increase your intake of fiber.
Just as above, the sky is the limit. Use whatever beans you have. That's the beauty of cooking….you don't need to follow a recipe by the tee.
Ingredients:
a bit of olive oil or coconut oil
1 medium onion
1 bell pepper and 1 carrot
canned beans, 1 cup of each: white & red kidney, black and Northern
1 cup of sweet corn (canned)
1 – 2 cups canned tomatoes
water or chicken/veggie broth (enough to cover everything)
spices: cumin, chili powder, red pepper flakes
herbs: dried oregano, basil
(if you decide to make it with meat, minced meat)
Preparation:
on a big pot or dutch oven,
(cook the meat as you'd always would)
heat olive oil
add onions, bell pepper, carrots and sautè
add spices
(add back the cooked meat)
cover and cook at low heat for a few minutes
add all other ingredients and enough hot water to cover everything and let simmer for 20 min
Enjoy alongside some bread or a serving of rice. It even goes well over pasta. Best of all, it tastes even better the next day and freezes well!
Meatballs – Everyone's Favorite
Meatballs are great as they are very versatile. You can eat them plain as snack, cut them up into your pita stuffed with raw veggies, cut them up into tomato sauce and serve over pasta or rice,…
Ingredients:
500g minced meat
1 – 2 onions, sliced thinly
2 gloves of garlic
1 egg
2 tbsp of each parsley, basil, oregano
1 cup crushed oats
salt & pepper
Preparation:
preheat oven to 200°
first slightly beat egg
add oats
add herbs & spices
add all other ingredients
with your hands, form tbsp sized meatballs
place them on a baking sheet and put into oven
bake for ~ 20 min
Eat them over pasta or rice (I'd place them after baking into tomato sauce). Eat them with Greek or spinach salad. Fill a pita with yogurt, veggies (cucumbers, cabbage & spinach), hummus or feta cheese. Serve them on the side of mixed veggies (from the freezer) or eat them along hummus with cut up veggies.
Pasta with Pesto Sauce & Cheese
Pasta is one of the easiest, quickest, and most versatile dishes to make.
You can make it with traditional tomato or pesto sauce or let is reheat in olive or coconut oil. You can toss in a few mixed veggies (from the freezer) or cut up a few fresh veggies, such as onions, asparagus, mushrooms, bell peppers or tomatoes. You can even serve it with a few nuts. For protein, you can add an egg or crumbled cheese, a can of tuna or stir through some cottage cheese.
Ingredients:
pasta (which ever one you'd like; try "healthier" pasta such as those made with whole grain, buckwheat, rice or peas)
3 cups fresh basil leaves
1/2 cup almonds
1 cup parsley
2 cloves garlic
1/4 cup olive oil
salt & pepper
(alternatively, if you don't want to make your own pesto, use a store bought jar you have in your cupboard)
Preparation:
bring water to a boil
add salt
cook pasta according to directions (on package)
save some of the pasta water
when pasta almost done, drain and add to a large sauce pan with a few tablespoons of pasta water, mix gently (to avoid sticking)
If making your own pesto:
add herbs and almonds into food processor, pulse
add garlic and then slowly and gradually add oil while pulsing until you get a smooth paste
Now, here comes the important part:
add pesto to pan (even store bought) and heat thoroughly
then add cooked pasta and mix gently (you might want to add a few tablespoons of pasta-cooking water!)
then, when sauce has thickened add a few crumbles of feta or goat cheese
To increase my veggie intake I like to add fresh spinach or arugula.
Grilled Chicken with Ginger Cashew Sauce
This tastes even better if you marinate the chicken the night before….plus, it makes for great leftover.
Ingredients:
Marinade for chicken:
1/3 cup coconut milk
2 shallots or onions
fresh ginger (size of your thumb)
2 tbsp fresh lime juice
1 tbsp sugar
3 cloves of garlic
2 tsp oil
2 tsp ground coriander
1 tsp ground turmeric
500g chicken breast or 12 chicken breast tenders
Sauce
2 tsp oil
1/4 cup cashews (unsalted & chopped)
3 cloves of garlic
fresh ginger, since of 1/2 thumb
1/3 cup coconut milk
1/4 cup cashew butter
1 tbsp sugar
1 tbsp reduced-sodium soy sauce
1 tbsp fresh lime juice
Preparation
made either on grill or stove
Marinate chicken:
blend all marinade ingredients until smooth in food processor
pour into bowl, add chicken and toss to coat
let sit for at least 15 min (in the meantime cook some rice if you'd like to eat it with rice)
Prepare sauce:
in a small saucepan on medium heat: heat 2 tsp oil
add cashews, garlic, and ginger
cook and stir constantly for about 1 min
add 1/2 cup water, coconut milk, cashew butter, sugar, and soy sauce
bring to a quick boil then reduce heat to low
simmer until thickened, 2 to 3 min
remove from heat and stir in 1 tbsp lime juice. Set aside.
grill chicken (or cook on stove)
serve chicken with sauce and rice (or other grains, on top salad or with bread)
To increase your veggie intake, feel free to add frozen spinach or frozen veggies to your rice when cooking.
Quick and easy  stir-fry
This really is quick and easy. Just throw in what you have.
Ingredients:
4 small zucchini
2 tomatoes
1 small english cucumber
1 onion
1-2 small potatoes
350 g minced meat
oil
salt & pepper
Preparations:
in a skillet, heat oil and add sliced (or cubed) onions
then add sliced (or cubed) potatoes, and let sit, stir frequently
add zucchinis (cubed)
after a few minutes, add cucumbers & tomatoes (also cubed)
in a separate skillet, prepare minced meat, once done add to veggies
Enjoy!
Easy potatoes & eggs
This is a quick meal with a few ingredients.
Ingredients:
2 cucumbers
salt, pepper & dill
sour cream
a pinch of sugar
potatoes
eggs
oil
Preparations:
peel cucumber (unless it's organic) and shred; mix with spices & herbs; add sour cream and let sit
cook potatoes
fry eggs in oil
Serve potatoes with fried eggs and cucumber salad! Let's call it a nourishing poor man's dinner.
Alternatively, if you don't have any cucumbers cook a package of frozen creme spinach.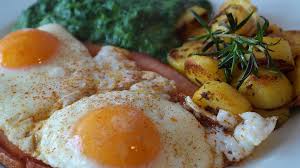 Potatoes and quark (thick dairy product)
I grew up on this.
Ingredients:
potatoes (contingent on how many people you are cooking for)
quark (at least 1 cup)
1 onion
oil (flax seed oil is best but pumpkin seed or olive oil  works too)
herbs & cumin & salt
Preparations:
to a pot of boiling water add cumin; then add potatoes
when cooked, remove from water and peel the skin off (unless you prefer eating with skin)
chop onions and herbs and add to quark
Serve potatoes with quark; drizzle a bit of oil over quark and/or potatoes and enjoy. To increase you veggie intake either serve with creme spinach (frozen kind) or cucumber salad from above.
Veggie stir-fry with poached egg
All you have are frozen veggies and an egg, well, even then you can make a quick dinner.
Ingredients:
frozen mixed veggies
1 onion, 1 clove of  garlic (& beans if you'd like to add some)
egg(s)
3 tbsp vinegar
Preparations:
in a skilled, heat a bit of oil and add onions and sauté
then increase temperature and add frozen veggies and stir frequently
then add beans and garlic
reduce heat and let sit for a few moments
in a pot, bring 1 cup of water to a boil
add vinegar and 1 tsp salt
break open one egg without breaking the yellow part and gently let slide into boiling water (repeat based on number of eggs desired)
leave eggs in for 3-5 minutes and gently remove egg(s) using a skimmer
Serve veggies on a plate; top veggies with 1 -2 eggs per plate and eat along some bread (spread with hummus). Enjoy!
IMPORTANT:
Don't forget to keep a shopping list on your fridge or cupboard to track anything you finished (or that's nearly gone). This way your kitchen remains always stashed with essential items…..
Even at the end of a long day –
cooking can be relaxing
cooking can be a bonding experience
cooking can be fun
cooking can nourish our soul
if you allow for it to happen!
Enjoy!
Other quick, easy, nourishing recipes:
Wow your guests with this 3 layered appetizer: colorful, healthy, quick and so delicious
Home-made chocolate ice cream – a dangerous recipe as you'll be eating ice cream every night (2 ingredients)