FitFamilie- our opportunity to be, become, and stay fit together. Mom, dad – let's work out together with our child(ren), support our health and creative beautiful traditions and memories.
FitFamily 
Mom, dad, which identity do you instill in your family?
No. 1 reason why some women don't find time to work out: they can't find a sitter. What are the reasons you can't work out?
Perhaps, this conversation below sounds familiar: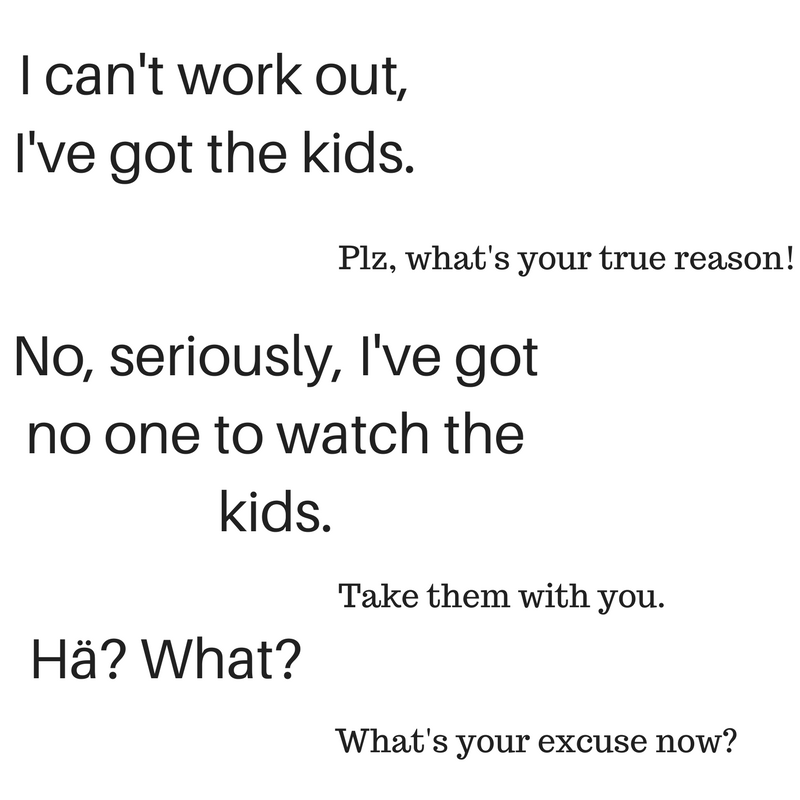 FitFamily – mom, dad, because it matters
Now, if you know me you know I look at challenges as opportunity.
What can we do to solve the dilemma?
Find a sitter?
Naw. It's already, given society's trend, difficult enough to spend quality time with our children. Finding a sitter just takes us away from them even more.
FitFamily
Families need to bond. We need quality time. We need fun.
After a certain age children seem much more interested in their friends, media, and cool, hip people.
We parents? We barely get to hear or see them.
Hence, the solution?
We work out together:
we create a fit, happy, healthy, and energetic family!
Reasons are plentiful! By working out together, with our child, moms & dads get to:
share our love for fitness
be a role model
create a healthy habit, for us and them
support our health and that of our child
spend quality time together
create awesome, fun memories
have a positive influence
connect and bond
.
As family, when was the last time, you (mom, dad & child):
spent 45 minutes of quality time with each other
pushed and motivated each other
shared moments of joy and pride, moments or defeat, and moments of exhaustion?
.
You know working out is great, has a positive influence on relationships and mood.
Just image how great your relationship could be with your child if you spent a few times each week working out together!?
~
Fit Family – Working out together

– it's

your thing

,
the thing you and your child do together

,
every week!
~
Think about it, currently we separate our desire for physical activity, for enjoying the benefits of workouts, for feeling fit and strong.
We work out when our children aren't around: early in the morning when they are still asleep, during lunch or in the evening when our partner or a sitter can keep an eye on them.
Or, other moms and dads don't even get to work out!
In the meantime, we shuffle our kids to their activity, their soccer camp, swimming lesson or dance lesson. If we care enough for them to be active.
It all creates stress, not only getting them to their activity but also finding time for us to exercise.
Some of the stress we can be avoided by working out together.
.
Now, mom or dad, if you think "my child will never exercise", think again:
I have seen PLENTY of children come up to me at the park.
Children see me, my Thera-bands, small colorful weights and cones and their interested is piqued.
–> Those colorful tools catch their attention.
They want to join, want me to share a few exercises with them, show them how to use Thera-bands.
–> They love it
–> They can't get enough, they are patient and interested (all the while parents watch from afar).
Will you get the same kind of intense work out you'd get if you'd work out alone? Perhaps yes, perhaps no. It depends on your level of fitness. But isn't it about being active and engaging in something healthy together as family?
Fit Family – because we matter & it makes a difference
What better
way to spend time with your child?
habit can you think of?
way to connect?
Mom, dad, how do you want your time to be remembered?
At the end, we all desire to be active, to feel our body, to move, and to enjoy the benefits of a fun workout.
.
Thus, join me for a Fit Family workout and please share it with your friends and family:
Coming to Vienna – Fit Family Workout!
Time & Location: every Sunday at 11 am at Rudolf- Bednar Park (1020 Vienna). Open to other times and locations. Please reach out!
Cost: €10 pro parent with child (€12 for 2 children with 1 parent)
(Prices decrease with increasing participants.)
Duration: 45 minutes (up to 60 minutes)
Language: english & german
And no, this is not just for moms. Dads, PLEASE feel free to join.
Grandparents, as long as healthy, are also welcome.
Your child should be 4 years and older.
Please register for the classes by calling Yvi @ +43 677-625-45756 or sending an email to FiEnergy.Vienna@gmail.com or here
For now, class size is limited to 5 families.
If other times or locations are preferred, please reach out. Thank you!
Prater, Venediger Au Park as well as Auer-Welsbach Park are alternative options that come to mind.