Ways to control seasonal weight-gain, holiday stress and winter blues before it starts
–
Motivation and "Baby, it's cold outside":
Yes, motivation is definitely not the greatest. Few of us are eager to strap on our running shoes when it's grey, cold and perhaps even wet outside. It feels more comfy on the couch, I know- you don't have to tell me. If you are like me, you perhaps, too, like to spend your evenings or Sundays snuggled up on the couch with a good book. Social outings or an invite to a Christmas party, too, often sound a lot more fun than an exercise session outdoors. I think we can all relate.
BUT…..yes, there is a but, a big BUT to be precise.
You have come a long way. You've exercised vigorously and committed for the past weeks and months, made progress, and come closer to reaching your fitness, health and perhaps weight goals.
Do you really want to jeopardize your hard work,
just because it's a tad bit cold outside?
Recall how: 
difficult it was to get started.
you struggled with the first few push-ups or burpees.
you suffered running the first kilometer.
If you stop now, you will need to go through that difficult phase again, as your fitness level will regress. That, unfortunately, is true. Taking a winter break now you will lose your strength, stamina, energy, condition, and body awareness, as well as flexibility.
Are you sure you are willing to give up what you worked so hard for?
–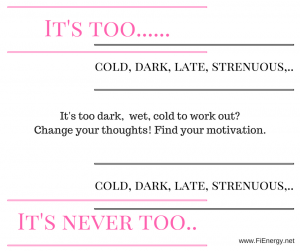 Didn't you tell me how you love the feeling of balance  and control.
Didn't you share with me how exercise helps you relax at work and how it (exercise) helps you deal better with stress.
Weren't you surprised how it supports your sleeping habits and even controls your food cravings?
Stopping now means all those benefits from exercise,
which you are clearly enjoying,
will cease as well.
Is that what you truly want? Are you willing to give that up?
In spite of the many social holiday outings and Christmas parties, identify what is important to you.
Think ahead to March next year: will you regret having taken a break from your workouts?
Will you fight through those initial tough workouts to get going again or will you be more likely to throw in the towel all together?
How important is it for YOU to remain active throughout the cold season? Keep in mind, we are not talking about taking a week off, for many of us, the cold season lasts 4-5 months!
Here are a few tips:
Join group workouts
We are more likely to exercise if we are part of a group. I know I look forward to my running group on Sundays. Knowing they'll be there motivates me. Honestly, I know if I were to run alone I'd choose my bed or couch a few too many Sundays over my Sunday morning run. Being part of the group, I actually look forward to our runs, the many interesting chats and the social outing.
Find a group you feel part of. The first time might always be awkward but believe me it does get easier, and with time you will develop new friendships; friendships that support your goals and healthy lifestyle.
Still looking for a fun group? Then give our international group a try. Full body workouts for every level of fitness.
Make it a fix commitment
plan it and stick to the plan. Write out your workout plan for the week ahead. Preferably, try to exercise in the mornings. After work, the temptation (or pressure!) to join a social outing might just be too big.
Use weekends
to go for long walks or hikes. Get out of town, step away from electronics. Breath the fresh air, move your body, enjoy nature and create new memories. It also leads to better mood and stress control, and you'll tank lots of day light.
Know your goals and identify your motivation
Think short-term but also long-term.
Why do you want to live an active lifestyle?
What do you enjoy about exercise, about being fit?
Which other aspects in your life are influenced (by exercise)?
What type of life do you want to live in 10,20, 30,…years?
How do you want to feel, what do you want to be capable of doing?
Do you have any goals, like run a 5k, half-marathon, triathlon?
Do you want to be able to exercise with your children?
Push through your comfort zone
There is no such thing as too cold. Dress appropriately. Remind yourself how great you feel during and especially after the activity.
And even if it is cold, give yourself an out: push yourself for 10 minutes. If after 10 min you still can't get into your workout zone, then walk home. This way, at least you did something. You gave it a try or perhaps your best. Tomorrow you'll do better.
Don't forget, even a small burst of exercise is beneficial for your health – mental, metabolic and physical.
Holiday weight gain:
Although you might not put on a lot of weight, the risk of you failing to lose the weight come January or February is real. This alone might lead to a spiral of unhealthy behaviors.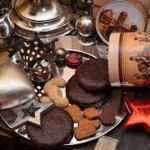 Two factors that influence weight gain are: less activity and constant snacking on holiday goodies (hence, excess energy intake).
Thus, the "solution" to weight gain prevention seems simple: remain active (preferably outdoors, you'll love it- believe me) and continue eating a balanced, healthy diet, and only splurge on occasions on holiday treats (in small quantity).
It's smart to eat before you get hungry
as eating when hungry might lead to excessively large portions. Thus, if you do go to a holiday party, have a healthy (but satiable) snack before-hand – you'll be less likely to overindulge in fatty, sugary foods.
Quit grazing all day
mindless eating does contribute to weight gain. So, don't have the open box of cookies right next to your laptop. Believe me; it will be gone before you realize it.
And please don't feel like you are missing out! Fear of Missing Out (FOMO) can actually jeopardize your health & way.
Make a conscious decision to only serve you the amount you'd like to it; then don't go back for seconds or thirds!  Eat each item slowly; let the flavors develop in your mouth; which spices to you taste? What do you enjoy about it?
Ultimately, eat slowly and enjoy it fully.
Shuffle your calories
If you'll attend a dinner party (with lots of delicious food), make healthy food choices for breakfast and lunch. Meaning, try to save the majority of your calories for dinner by consuming low calorie dense food throughout the day (think veggies and low-fat protein sources). Also realize, holiday sweets as well as drinks come with hefty calories- calories you need to expand! Do you really want that cookie knowing it'll perhaps take 20min of running to expand (the energy provided by that cookie)?
Stay active
And if your social calendar is filled with parties, then make sure you increase your daily exercise. Consciously, choose the stairs over the elevator (or escalator), stand up when the phone rings, and engage in body weight exercises (such as squats, wall or desk push-ups and desk triceps dip) at work during your break. Use stretching breaks whenever you have the chance. If you prefer that others don't see you, then use the area near a printer or the staircase. Do you need some in-office exercise ideas? You'll find plenty of videos right here.
Liquid calories: to drink or not to drink
Who doesn't like a glass of mulled wine, eggnog or pumpkin spiced latte? It's as much part of the holiday season as turkey and stuffing for Thanksgiving. Yet, think before you mindlessly drown 2-4 glasses of the caloric rich stuff, then the calories add up.
Worse, most likely you are still going to indulge in those cookies or special Christmas market sausages or stuffed potatoes.
Plus, don't forget that alcohol influences our metabolism, hormones, sleep, workout motivation, and cravings. So, think before you drink.
Sleep:
While the weather might call for lots of snooze, the many social outings might prevent us from getting the sleep we need. Although we know we feel great, healthy, and energized if we have slept just enough- not too much but also not too little – many don't want to miss out on the fun. Yet,
healthy sleep rhythm supports healthy weight, keeps our immune system functioning optimally, and puts us in a better mood.
So, try to stick to a solid amount of shut-eye- every night for at least 7 1/2 hours, 8 is better.
Prioritize what is truly important to you, and know why it is important. And by the way, exercise positively supports sleep. Walking, too, counts as exercise. Go for a walk, stroll through the Christmas markets. Walk home from the Christmas party or go for a post-dinner walk. Every bit counts. More importantly, make exercise your friend. Not just any friend – a real important friend (one, you don't neglect or step out on).
~A serving of exercise can help
control holiday stress & holiday cravings,
support healthy sleep habits & weight,
and lead to happy mood.~