Spring Recipe: if you are looking for a refreshingly light and healthy but colorful appetizer than look no further. If you prefer watching the recipe on video, then check out the 3-layered spring appetizer on YouTube.
This beautiful 3-layered salad or appetizer provides just the right amount of protein (cheese & nuts), healthy fats (avocado & nuts), and carbohydrates (mango).
Spring has arrived -
3 Layered "Salad" 
a different kind of appetizer
The best part of this spring recipe, you can adjust the ingredients to your liking. The following recipe will serve 6.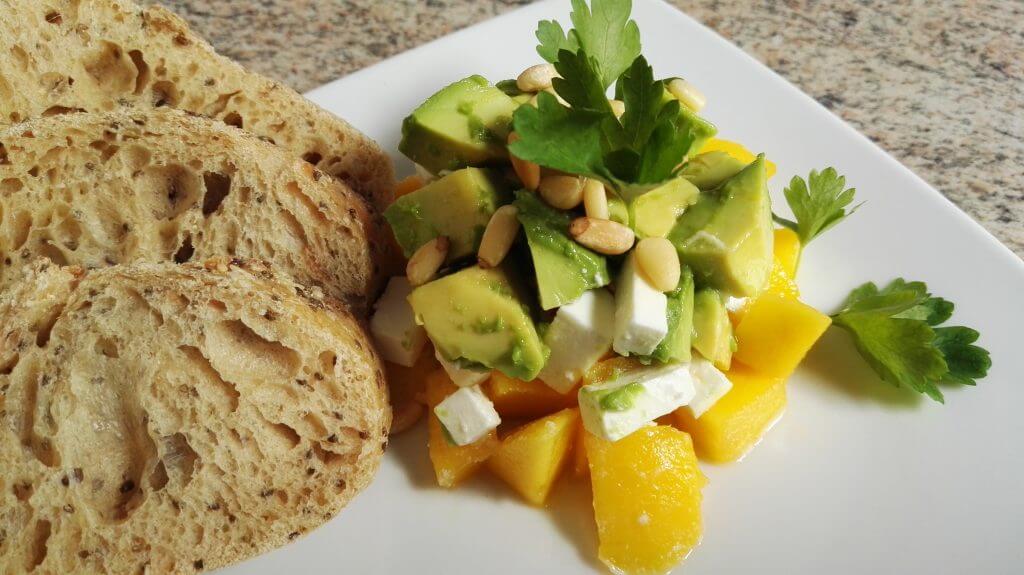 -
Ingredients: 3-layered Spring Salad Recipe
3 Avocados (cut into small cubes)
2 Mangoes (cut into small cubes)
Goat or feta cheese (cut or crumbled into cubes)
Pine nuts
Orange juice (heated together with a bit of honey)
Additionally, you will need either round or square stainless steel "cookie cutter forms". Of course, you can use ANY shape you like. How about a flower or heart? (In case you don't know what I mean have a look here.)
By the way, if you don't own a cookie cutter form, don't worry! I got creative and used a small food can (such as a tuna can or veggie spread can). Store the can's content in another container and thoroughly wash the can. Then, with a can opener, open the bottom of the can so both ends (top and bottom) are open.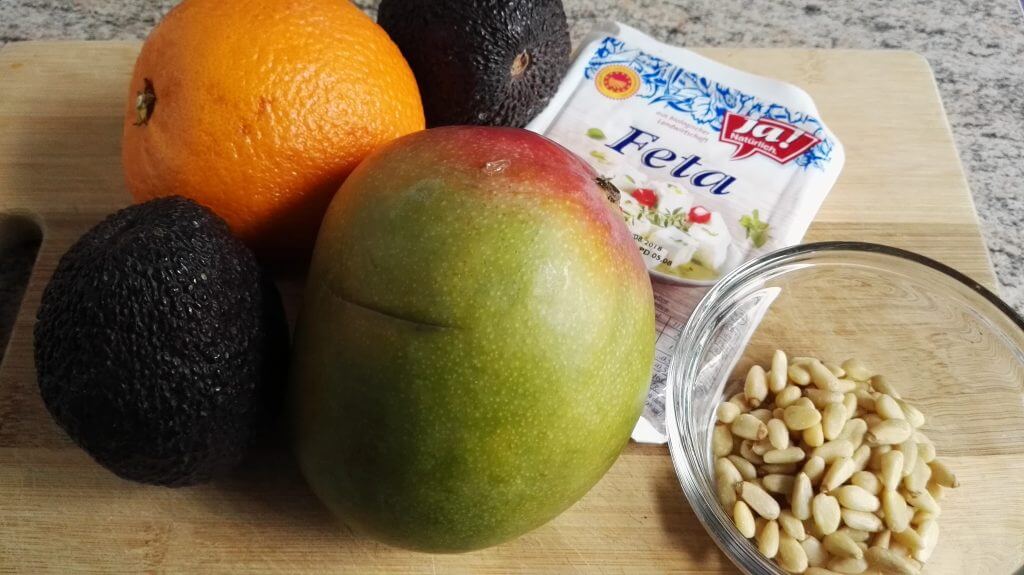 .
Instructions: 3- layered Spring Appetizer Recipe
First, cut the mangoes, avocado, and cheese into small cubes.
Then, over low heat slightly roast or brown pine nuts. Be careful not to burn the nuts.
In a small sauce pan, over medium-low heat, combine orange juice with a bit of honey. Stir frequently. After honey has melted, turn off the heat.
Place one cookie cutter circle or square on the plate you'll be serving the dish on.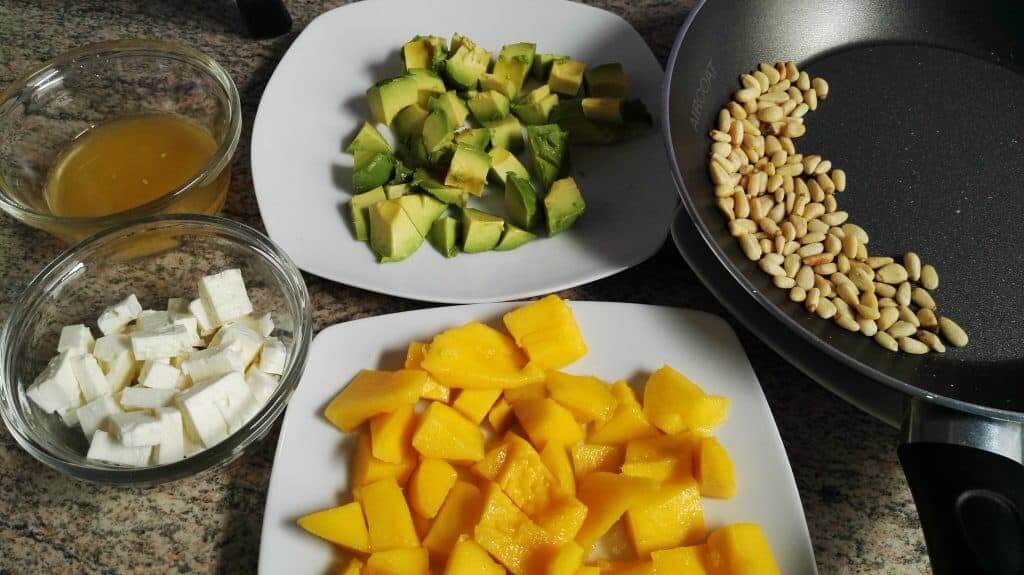 -
Inside the stainless steel cookie cutter add:
first one layer of avocado
then one layer of goat or feta cheese
then one layer of mango
lastly, add a few pine nuts to cover the top
Remove the stainless steel cookie cutter form.
before serving, sprinkle the orange juice-honey mix over the 4-layered spring salad
as decoration, as 1 leaf of mint or arugula in the center
Serve immediately.
-
How to Serve 3-layered Spring Appetizer:
appetizer
snack or light meal alongside bread
vegetable side alongside meat or poultry and rice
Of course you can make this ahead as well. It tastes best served cold.
Just layer the items on the plates; keep the 3 layers within the cookie cutter form and store in the fridge. Remove form before serving. Don't forget to sprinkle with orange juice-honey mix right before serving.
Enjoy this beautiful spring-themed appetizer.
This beautiful recipe was shared by Ada, one of our regular Saturday outdoor group exercisers. Thank you!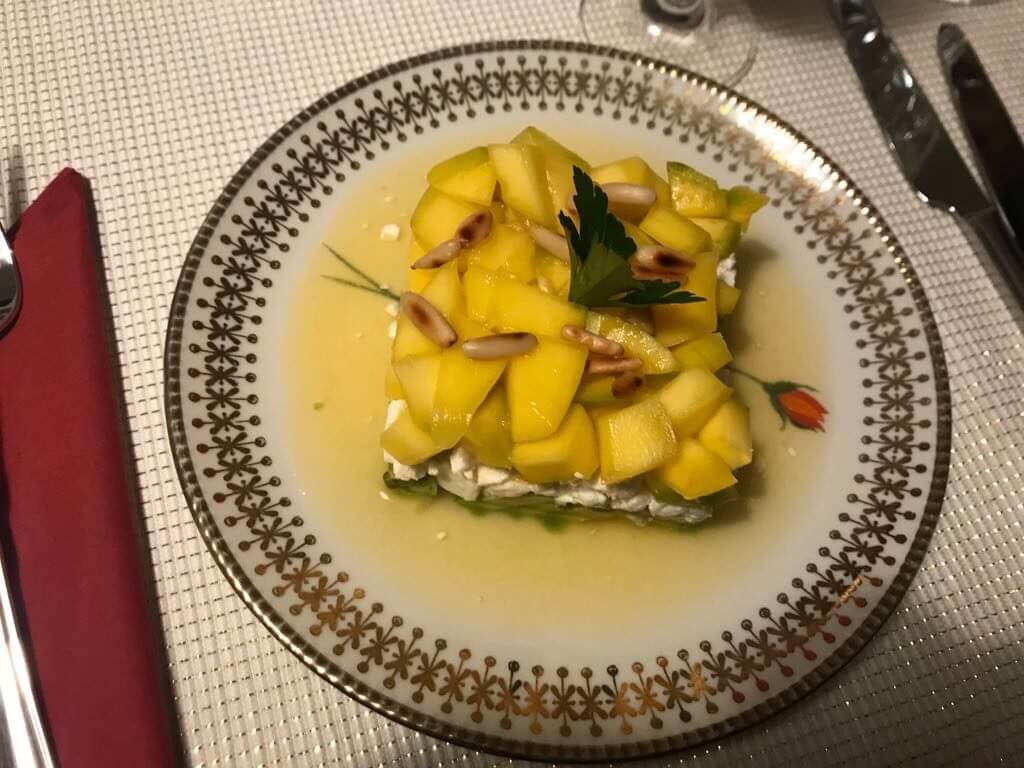 Feel free to like, share, and comment.
By the way, if you like mangoes, why not give this vegan, light & refreshing Black Bean- Mango Salad a try? The flavor, too, might wow you!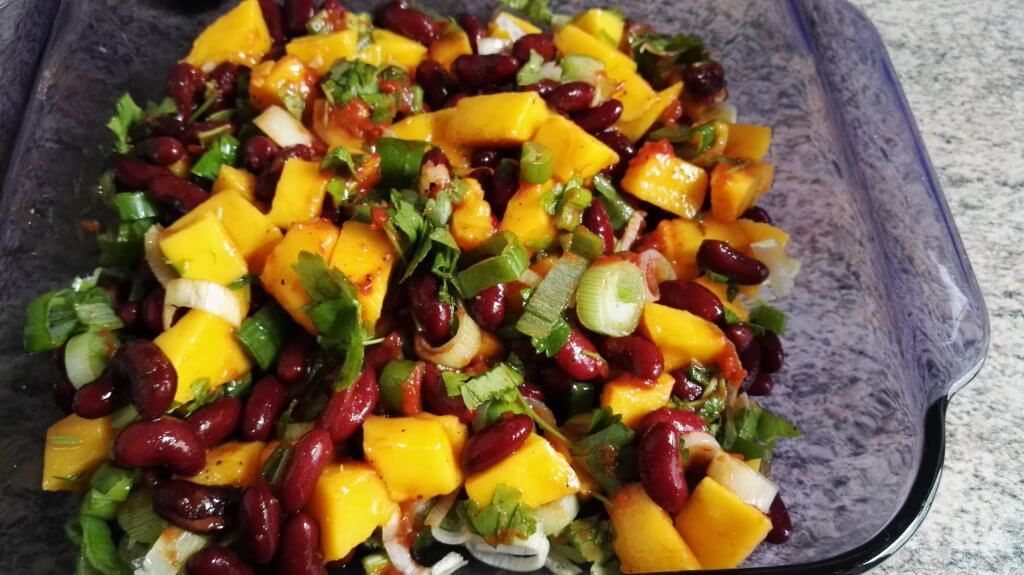 Other recipes you might like:
4 basic ingredients – 8 quick, satisfying, healthy, vegan recipes
Or a few videos:
Healthy kitchen – recipes, snack & meal ideas: healthy, quick, easy, good
Please follow and like us: