What does

Fi

Energy

offer?
Group training:
functional (outdoor) group and corporate training are both offered as 4 week programs
each training cycle is 4 weeks long, you sign up and commit for 4 weeks
you decide how many days a week you'd like to train (choose between 2-5 days/week)
each training session lasts 45-60 minutes
for corporate training, shorter training sessions of 30 or 45 minutes are possible
for details to corporate training click here
for details to the latest group training schedule click here
In addition to these 3 training programs, FiEnergy offers:
One-on-one training:
is individualized based on your needs
is tailored to your strengths and weaknesses
is tailored to your goals and limitations
training sessions can either be 60 minutes or 90 minutes
training is outdoors or at your gym
can be combined with a partner
for details to one-on-one training click here
bevor & after fitness test
couple workouts or parent-child workouts
workouts for mom's to be
nutritional guidance
cognitive behavioral therapy
short, spontaneous, theme-specific workouts
What is functional fitness and what will be trained?
a mix of full body cardio training taking advantage of outdoor opportunities
we use benches, staircases, hills, sand, ….or at times even the playground
we'll be using your own body weight but to increase resistance and intensity we'll also train with small equipments and partners
training is often set up as circuit style and contains components of boot camp, tabata, sprints and jumping as well as yoga
no training is alike - variety is important to ward off boredom 
some days will focus heavier on endurance while other days might focus on speed or agility
as with age, imbalance and inflexibility become a problem often leading to injury and falls, we end each training with stability, balance and/or flexibility training
training focuses on purpose and all planes of motion emphazising the body's natural ability to move
training focuses on functional exercises rooted in science and physical therapy
Every workout will be challenging but FUN!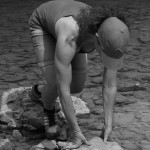 By the way, have you ever thought what it'd be like to train with me instead of being trained by me? Why not find out? You should, however, have a solid fitness base and be familiar with common exercises and the execution of them, bring positive energy, and don't be a chicken. Do you dare to try it?